The Time of Reflection

2012 Eagle Award Winner!
Script and letters by Lex Wilson (as "Alex Wilson"). Art and Color by Silvio dB.
A five page dark fantasy comic combining the Snow White fairy tale with the Trickster myth. More info here or here. Winner of the 2012 Eagle Award: The MCM Expo Award for New Visionaries (AKA "The Huntsman's Challenge," co-sponsored by the Universal Pictures film Snow White and the Huntsman).
Read the full comic here for free and/or order the print version for just $2 USD.
Winner announced at the MCM Expo / London Comic-Con at the end of May 2012. Thanks for all your support! (full story/list of winners)
"The Time of Reflection" was shortlisted by judges Steve White, Tony Lee, and Mark Buckingham in both categories of art and story for the MCM Expo Award For New Visionaries, and then became one of two finalists, and then won the whole thing won via popular vote.
As a finalist, the story (with some violence that would give it at least a PG-13 rating, FYI) was "included in May's MCM London Comic Con show programme, printed in conjunction with Snow White And The Huntsman from Universal Pictures." More details here or here.
The contest required a dark fantasy story (complete with five pages of color art!) with only a month from announcement to deadline. Thanks for your support, congrats to Silvio, and congrats also to friends Paul Allor and Amy Chu, who also had work shortlisted!
After all this, a very successful Kickstarter raised over $5,000 (over 1,000% funding!) to subsidize the printing of the story as a full color booklet and get it into shops.
Check out more work by Silvio dB here.
From the London Comic-Con program: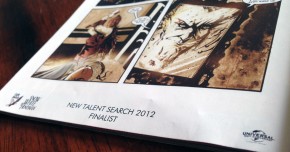 Contains violence.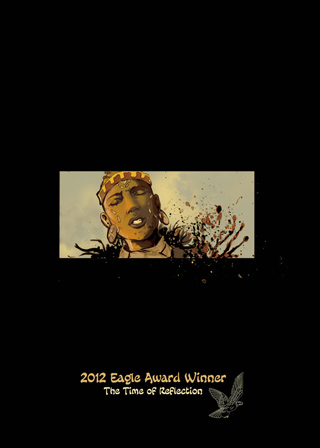 Full color booklet. 12 pages, including cover.
First printing, November 2012.
$2.00 (+$1 S/H in the USA)